Heritage led approach and thermal bridging solutions - A case study
Oxford, UK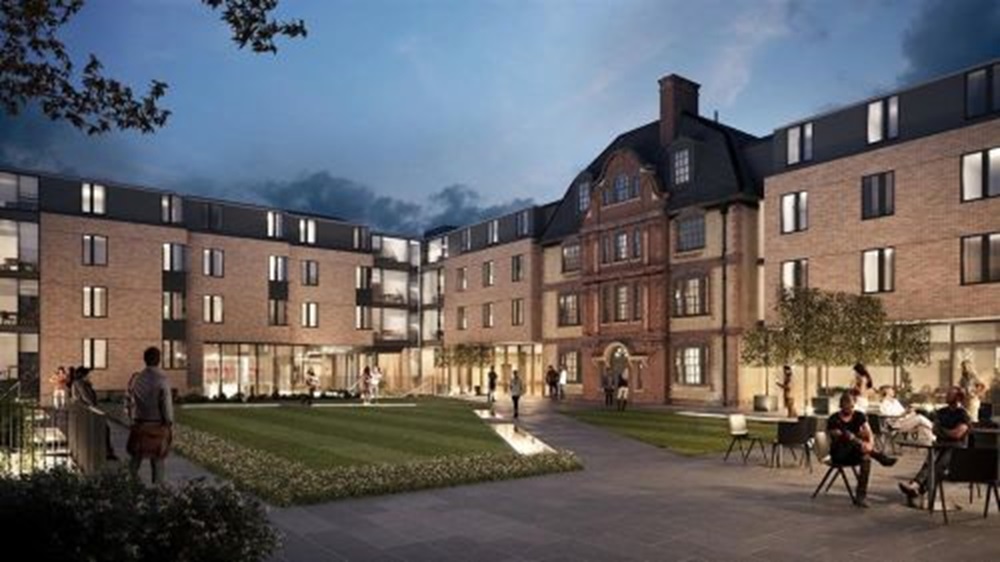 Thermal bridging solutions contributing to a conscientious and heritage-led approach on listed building projects.
A PERINSUL case study
Architect
Rick Mather Architects/MICA
Building type
School
Year
2019
Application
Base of wall / base of partition
A load-bearing insulation element produced by Owens Corning FOAMGLAS® helped to deliver thermal bridging solutions on two complex and high-profile projects in the south of England. FOAMGLAS® PERINSUL HL was used to support the masonry facades of the new state-of-the-art commercial buildings that had been designed to sit alongside existing listed structures.
The new commercial buildings provide comfortable and energy efficient academic spaces that complement the history of the traditional buildings. Detailing crucial junction details to feature PERINSUL HL ensured continuity of the thermal envelope across the new construction on both projects.
Achieving insulated building envelopes
on listed building projects
Protecting and restoring listed buildings can be a difficult task. Making improvements to their building fabric to achieve better insulation and airtightness is highly restricted. Enhancing the setting of a listed building by providing a modern development around it is even trickier and requires a conscientious and heritage-led approach.
The HB Allen Centre at Keble College in Oxford was a £63 million project providing 12,250m2 of new floor space. Central to the development was the Grade II-listed Acland House, around which the new building was constructed. Construction also took place underneath Acland House, with a 2,000m2 open-plan space below ground extending from the building beneath the newly formed quadrangle.
A similar level of excavation took place as part of restoring and extending the Great Hall and Library for the Honourable Society of Lincoln's Inn in Holborn, London. The construction of a new education suite below ground formed part of the most significant development on the estate for 150 years. To the north of the existing library, an office building with library storage was also erected. Both elements of the project received a BREEAM Very Good rating.
Selecting a thermal bridging solution
to achieve good junction detailing
The combination of above and below ground structures, plus new construction elements and existing listed elements, makes for design and detailing challenges. Load-bearing parts of the structure frequently cause interruptions to the thermal envelope of the building and can easily result in localised areas of excess heat loss, cold surface temperatures and even condensation if the proper measures are not taken.
Eckersley O'Callaghan are structural and facade engineers who provided structural engineering services on both projects. Director, and co-founder of the practice, Brian Eckersley explained how a collaborative approach lead to the use of a thermal bridging solution like PERINSUL HL.
"The decision isn't driven by one party. It comes from a design strategy where you've got a highly insulated building and need to maintain the thermal envelope while bearing structural loads."
The contribution of a thermal bridging solution in terms of reducing junction heat losses is a big part of high-performance building fabric, but it can still be relatively poorly understood. When the benefits of a load-bearing insulation element are not clear, it may be one of the first items removed in the name of 'value engineering'. On these two projects, that was never a risk according to Brian.
"As building regulations become more stringent, you can't just take the thermal bridging solution out. PERINSUL HL is a great product for being able to get that load-bearing performance together with the continuity of insulation."
Understanding the benefits
of cellular glass insulation
Eckersley O'Callaghan has long been aware of what Brian describes as the "fantastic quality" of FOAMGLAS® cellular glass insulation.
Even ten years ago, solutions for reducing unnecessary heat loss were part of the projects they worked on. The parties working on and supplying materials to a standing seam roof at Stowe School collaborated to create a solution where zinc cladding was fastened into the cellular glass insulation rather than the structure behind. This avoided the thermal bridging effect of the cladding fasteners.
At the HB Allen Centre and the Lincoln's Inn Great Hall and Library, the load-bearing properties of PERINSUL HL made it the ideal choice to support the masonry outer skins sitting on the concrete floor slabs of the basement extensions.
Unlike other thermal bridging solutions, PERINSUL HL has been tested and assessed as a load-bearing element. Having been assessed under a European Technical Assessment (ETA), PERINSUL HL is CE marked. It has also been independently accredited by the BBA, and a BBA certificate issued.
The thermal performance of cellular glass means PERINSUL HL can help virtually eliminate thermal bridging heat losses at common junction details. Detailing can be slightly different on every project, and the technical team at Owens Corning FOAMGLAS® can be contacted for project-specific advice and guidance on achieving the best results.
Also available is a whitepaper looking at designing effective thermal envelopes, and a CPD seminar about thermal bridging solutions and PERINSUL HL.