Thermal bridging in a national park setting - A case study
Single storey, green roofed dwelling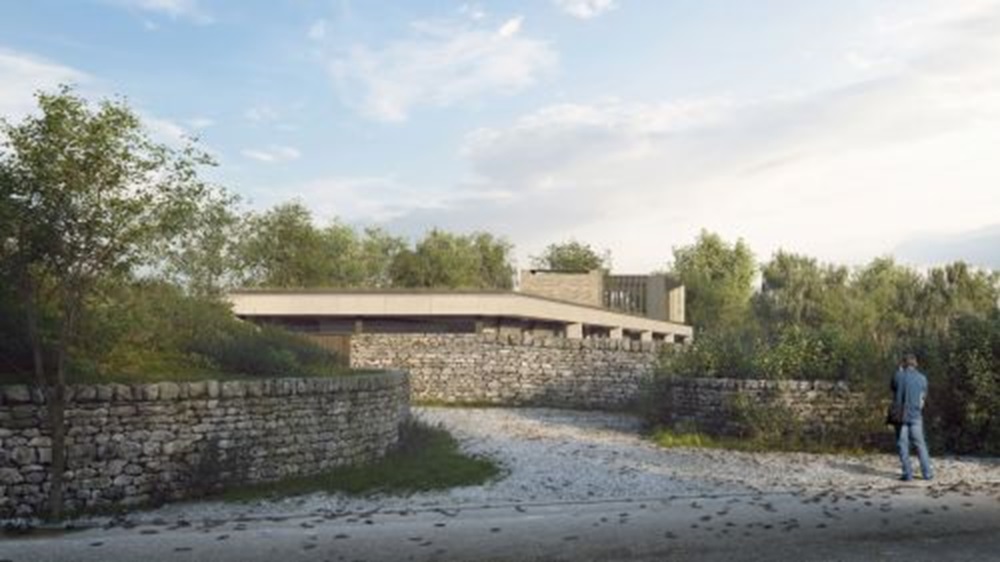 Thermal bridge detailing helps to create a modern house fit for a traditional national park setting. A PERINSUL case study.
Architect
John Pardey Architects
Building type
Domestic
Year
2019
Application
Base of wall / base of partition
Thermal bridge helps to create a modern house
fits for a traditional national park setting
In the Peak District National Park with views of Cressbrook Dale and the Monsal trail, a thermal bridging solution developed by Owens Corning FOAMGLAS® is helping to deliver high levels of thermal performance for a new, modern home with a minimal space heating demand.

The Quarry is a mostly single storey, green-roofed dwelling set on the site of a former shallow stone quarry. Working with John Pardey Architects (JPA), client Will Griffiths secured permission for a modern design faced with traditional materials to ensure a development that sits comfortably within the landscape.
Thermal bridging solutions
as part of efficient building fabric
The Quarry comprises the main house and a separate annex building. The thermal elements (floors, external walls and roofs) of both buildings are designed to achieve extremely low U-values of around 0.12 W/m2K.

For an efficient building fabric to be effective, the entire thermal envelope must be designed to minimise heat loss. This means detailing the junctions between the elements in such a way that they do not act as thermal bridges. Junctions include the base of the external walls at ground floor level, and at parapet details where a flat roof meets the external walls.

Structural requirements at these crucial junctions often take precedence over the thermal performance, but by creating a break in the building's insulation layer they become responsible for a significant proportion of the total heat losses. Localised reduced surface temperatures as a result of the excessive heat loss at these thermal bridges can also risk condensation and mould growth.

JPA specified FOAMGLAS® PERINSUL HL to contribute to the thermally efficient building fabric of The Quarry. As a load-bearing insulation element, PERINSUL HL can form part of the thermal envelope whilst also bearing the structural loads imposed at common junction details.
Using PERINSUL HL
as part of a passive solar design
Both the house and annex at The Quarry have been designed on passive solar principles, meaning that the sun will be used as a free heat source to warm the property as much as possible all year round.

Large areas of south-facing glazing (which happen to also provide remarkable views of the Derbyshire Dales) mean even the low winter sun can be exploited to its full potential, while shading features ensure solar gains in summer are limited to prevent overheating. Warming the property 'for free' is one thing, but that heat needs to be retained - hence the efficient building fabric that delivers low U-values and eliminates thermal bridging as much as possible.

"The form factor [ratio of total external surface area to heated floor area] of the main house, being single storey, is not very efficient," Will Griffiths explained. "For that reason, we chose not to go down a route of certification to a standard such as Passivhaus. A design space heating requirement of 15 kWh/m2/yr isn't achievable within the budget. However, by optimising construction details and specifying U-values of around 0.12 W/m2K throughout, we will be close to that target".
Installing PERINSUL HL
on site at The Quarry
Despite the importance of reducing thermal bridging heat losses in buildings, the construction industry generally still does not tackle junction details consistently. The decision to use FOAMGLAS® PERINSUL HL at The Quarry was architect-led, with JPA having specified it on other projects.

To eliminate the performance gap, however, architects' designs and details have to be built so that they perform as intended. Thermal bridging solutions therefore need to make good junction details as easy to achieve as possible, even when contractors have no previous experience with the product.

"Although the PERINSUL HL was new to everyone who used it, once installation began, they found it easy to use and there were no problems," said Will Griffiths.

Three different heights of PERINSUL HL were specified for use at The Quarry: 65mm, 100mm and 140mm. All of the units were 140mm wide and 450mm long. The different heights allow the units to be positioned to achieve continuity of insulation between the building elements, while seamlessly coursing in with masonry where necessary.

For the main house, 100mm PERINSUL HL units were used at the base of the timber framed external walls. They were laid directly onto the ground floor raft slab, bedded in a simple mortar course like standard masonry, positioned to link the ground floor insulation with the external wall insulation and reduce the thermal bridge.

The 'typical' detail then sees the timber frame sole plate installed on the PERINSUL HL and strapped to the floor slab. Will Griffiths and JPA preferred to fix the sole plate directly into AAC masonry blocks laid on top of the PERINSUL HL units and consulted with FOAMGLAS® during preparation of the detailed design. Upon receiving agreement, the solution was adopted on site.

The annex building features 140mm PERINSUL HL units at the base of the masonry external walls, and 65mm units in the parapet, where the flat roof meets the external walls. They reduce the thermal bridge at both junctions, linking the external wall insulation with the floor and flat roof insulation respectively.
About Owens Corning FOAMGLAS® and PERINSUL HL
FOAMGLAS® PERINSUL HL was designed to be different to other thermal bridging solutions, meaning it was independently tested specifically as a load-bearing element. PERINSUL HL is CE marked, having been assessed under a European Technical Assessment (ETA), and has also been independently accredited with a BBA certificate.

The thermal properties of cellular glass insulation mean PERINSUL HL can help virtually eliminate thermal bridging heat losses at common junction details. And because detailing can be slightly different on every project - as shown at The Quarry - the technical team at Owens Corning FOAMGLAS® can be contacted for advice about achieving the best results.

A white paper looking at designing effective thermal envelopes is available to download, and a CPD seminar about thermal bridging solutions also looks at junction detailing and the thermal envelope in more detail.